Secondary Mastery Specialists Programme 2022-23 (Applications closed)
Our Secondary Mastery Specialist programme is an opportunity for secondary teachers to become leaders in teaching mastery in mathematics. The Mastery Specialist programme is for those maths teachers who want to become an expert in teaching for mastery and work towards supporting other schools.
The programme is supported by fully funded training from Maths Hubs and NCETM experts.
Secondary Teaching for Mastery Development Programme 2022-23
Introduce teaching for mastery across your department.
Secondary maths teachers whose schools want to introduce teaching for mastery can nominate two teachers ('Mastery Advocates') to join a Work Group. Mastery Advocates then form part of a locally-based group of teachers who meet regularly to develop professional knowledge and expertise, and receive bespoke support.
In a Teaching for Mastery Work Group, teachers collaborate with colleagues from local schools, and get support and guidance from a Local Leader of Maths Education (LLME). Participants also take away ideas to help students become more confident mathematicians, ready to tackle GCSEs and A levels, and begin to introduce and embed teaching for mastery.
SKTM for Secondary Early Career Teachers 2022-23
Develop mathematical subject knowledge and understand the pedagogy that underpins the teaching of it.
Phase 1 Communities in this project are for those identified as Early Career Teachers – teachers in their first or second year of teaching.
Phase 2 Communities are for those in the early part of their careers. They will have engaged with Phase 1 before engaging with this phase.
Find out more about the resources available from the NCETM for ECTs >
SKTM for Secondary Non-Specialist Teachers 2022-23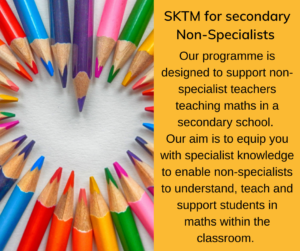 Develop mathematical subject knowledge and understand the pedagogy that underpins the teaching of it.
This programme is for non-specialist teachers of maths in state-funded schools who fit the following definition:
"A non-specialist teacher of mathematics is a teacher in a state-funded school or college that is currently teaching some mathematics or has commitment from a headteacher/executive head to teach some mathematics within the next year, who has not undertaken Initial Teacher Training (ITT) in mathematics."
If there is sufficient space in the cohort, other teachers of maths who do not fit this definition but would benefit from this support may also participate.
Secondary Subject Leadership 2022-23
Professional development designed specifically for secondary heads of maths.
The project is for secondary heads of department/subject leaders, and is open to heads of department in schools already involved with Maths Hubs and to those who are not yet involved. In their first year of engagement with this project, participants will be part of a Work Group. In subsequent years they will be part of a Maths Hub-led subject leadership community.
Secondary Maths MAT Leads 2022-23
Support and development for those leading maths across multiple schools.
The project is for those who lead maths across multiple schools within a MAT, including at least one secondary school. This includes MAT maths leads who are continuing from 2021/22, and new participants. To better engage in the programme, participants are encouraged to have at least one school in a Secondary Teaching for Mastery Work Group in 2022/23, but this is not essential.
Year 5-8 Continuity Work Group 2022-23
Strengthen the transition from primary to secondary.
This project is for both primary and secondary schools.Work Groups in this project focus on curriculum and pedagogical continuity over Years 5 to 8. Participants will explore a selection of high-quality resources: Checkpoints, Multiplicative Reasoning and Algebraic Thinking materials.
A lesson study approach is encouraged where all participants focus on a particular aspect of the maths curriculum and work collaboratively to develop this in their schools.
Developing Core Maths Pedagogy
Develop improved teaching approaches for Core Maths.
This Work Group give teachers opportunities, through collaboration and experimentation, to develop improved teaching approaches that support the open-ended problem-solving skills Core Maths students need to develop, and to share these with departmental colleagues. Work Groups may be face-to-face or online and will include school-based activities between workshops.The project involves a direct working partnership between the Maths Hubs Network and the Advanced Mathematics Support Programme (AMSP).
Years 7-11 Coherence 2022-23
Explore approaches to key topics in KS3 and at GCSE.
Individuals or ideally pairs of teachers from a department participate, and will work with other members of their department at appropriate points. Feedback from teachers, along with GCSE exam analysis, indicates there are key areas of the curriculum that students find challenging. Work Groups in this project deconstruct and analyse these areas and devise effective approaches to them, to achieve a more coherent learning journey through the secondary years.
*The project also offers an entry point into developing mastery approaches, or could support a department already involved in the Teaching for Mastery Programme.
Mathematical Thinking for GCSE 2022-23
Discover ways to help GCSE students improve their mathematical thinking.
Participants will be expected to lead developments in their own department and so should have the opportunity and authority to do this effectively.
Exam boards often note that, when students come to GCSE examinations, AO2 and AO3 are frequently poorly addressed. This Work Group is designed to meet teachers' needs in that it provides practical and theoretical elements to support the development of students' mathematical thinking, whilst offering a manageable structure for collaborative CPD.
*The project also offers an entry point into developing mastery approaches, or could support a department already involved in the Teaching for Mastery Programme.